At Haut-Lac,

we are beginning to

resume some of

our normal school habits and routines

after the summer break

. However,

if one of our alumni were

to turn up for a visit, they would find that

quite

a few things have changed since they were last on campus!
This would be down to the regulations that Swiss schools have implemented as they contribute to the fight against the spread of Covid-19. Although many of these are now an integral part of our strange new way of life, the new term has brought with it a few additional changes.
At Haut-Lac, we have been adhering closely to the new measures put in place by the Federal Office of Public Health (FOPH), the cantonal medical authorities and the Vaud Department of Education (DFJC).
To our delight, both students and staff have been very conscientious so far, adhering to all the new changes whilst remaining bright and cheerful. Having been forced to forego such a large amount of in-class teaching earlier this year, the students' dreaded return to school after their long holidays is perhaps not so 'dreaded' anymore!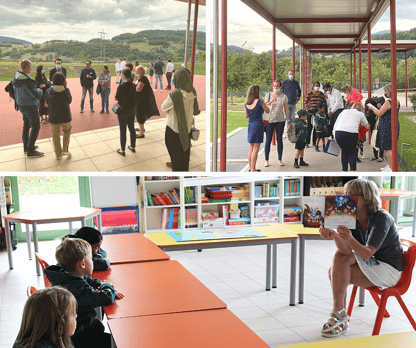 How is student and staff safety ensured at Haut-Lac?
Here just a few of our measures:
All students who wish to wear a mask may do so. All staff and students aged 13-18 wear masks everywhere at school.

Markings have been placed on the floor outside and in offices, as well as in other areas and spaces where di

stances have to be respected
Masks are available at reception for staff, although we encourage everyone to use their own regulation mask (homemade versions are not permitted) for environmental reasons
Students are often reminded of the importance of social distancing rules
Additional hygiene measures are in place at lunch times - individual sets of cutlery are prepared and the salad buffet now comes in individual portions prepared by the kitchen staff
Hand sanitizer stations are easily accessible throughout the school, and spaces are frequently cleaned and disinfected by our house staff
School buses run as normal, but hygiene measures are respected stringently and students above the age of 12 are advised to wear a mask. Bus drivers wear a mask at all times.
Special pick-up and drop-off directives have been communicated to parents to reduce the number of adults around the school premises
School events that involve many members of the community are considered on an individual basis. Events like our PTA Newcomer Apéro and Parent Information Evenings have become virtual events
Students who have traveled from countries currently on the Swiss quarantine list must remain at home for the prescribed quarantine period before coming into school

Visitors must leave their details and answer a short questionnaire at reception upon arrival, and wear a mask whilst touring the campuses

All staff at Haut-Lac are regularly briefed on updates to our Covid-19 action plan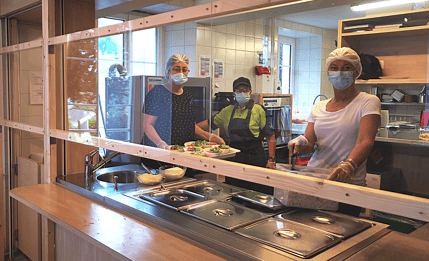 For more information on the measures included in our Covid-19 action plan, please visit the dedicated coronavirus page on our website.