As explained by a successful student-athlete at Haut-Lac International Bilingual School
Today I'm sitting down with a particularly unique student – one who joined us in order to simultaneously work towards an IB diploma and train for the biggest sporting event in the world calendar, the Tokyo 2020 Paralympic Games (*article written before COVID-19).
Sofia Gonzales may be a humble student when she's at home, but on the track, she is a blade runner and a force to be reckoned with. Currently ranked 5th in the world in her discipline she is working hard to get her diploma and the future she wants for herself. I managed, however, to grab a quick slice of her time to see what drives her to push the limits and get a good education.
So tell me, what sport do you do and what level do you compete at?
I do para-athletics, more specifically the 100m sprint and long jump, but with a blade as I was amputated at 3 years old. Having participated in the World Para-Athletics Championships, I now compete at international level and am on the road to Tokyo, training for the Paralympic Games!
As 1 of only 2 blade runners in Switzerland (the other is Abassia Rahmani, also a woman), I am up against a lot of wheelchair athletes, who compete in the same category. However, after ranking 5th in the World Championships, I am optimistic about selection.

At what age did you begin competing with a blade? (prosthetic leg for athletes)
I discovered the blade in 2016 and my first competition was in 2017. The first year was one of discovery and learning to run as I joined CA Riviera (Athletics Club) with some friends. It was a social activity at first, but when I started doing well, things began to snowball. Everything has happened very quickly since!

Did you feel the amazing progress you were making in athletics was affecting your school life?
Before the European Championships, running was just a fun thing to do. Just as every kid has a hobby or a sport they like, running was mine. However, after competing in Berlin, I realised that it was becoming a larger part of my life and that I would have to make a decision sooner or later.

What decision did you go with in the end?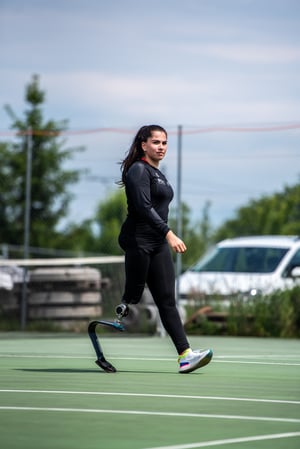 Towards the end of 2018, I began to feel that the public school system wasn't athlete-friendly enough anymore, as I wasn't allowed to attend a number of competitions due to schoolwork. When I realised how much that bothered me, I began looking for a more flexible school that would help me to balance my education and sport, which is how I found Haut-Lac. I spoke to another Haut-Lac graduate who was very sporty at school, and she recommended the school to me as being entirely sport-friendly, which is something I see and agree with now that I'm here.
How do you balance your athletics and school?
I manage my timetable with Greg Wilson (DP Coordinator and Sofia's supervisor), so that I stay on top of things. I'm also able to do my sport science internal assessment on the blade, which is great as I can learn even more about it for myself.
What about juggling between the adult world of sport that you're in and the world of school – is there ever a disconnect there?
Sometimes it can be hard to reconnect with people when I've been away for a couple of weeks, but it's part of the choice I made so I can justify it. It also gets easier the longer I stay in one place, but I do already feel like a grown-up when handling sponsorships and my 'athlete persona'.
However, I don't want anyone to ever believe that I think myself superior because of my sport. It's a part of me, and one that I love, but I am also a girl and a student who enjoys being at home with her friends. That's how I want people to see me when I'm here.
Why is getting an International Baccalaureate education more important to you than home-schooling?
Honestly, homeschooling would be too sad for me, as it would mean being alone all day when I wasn't training. I save my discipline for my sport, so I don't think I would be strict enough with myself to get work done!
The routine of getting up and going to school also really helps me, and the education will be a beneficial fallback option. Often a victim of ageing and injury, a sporting career is a precarious thing, and it's even harder to make it as a para-athlete as we're such a small committee.
So I would rather get a good education, and perhaps do a sport management or science degree later on. My ultimate dream would be to work with the Paralympic Committee, and help the world open up more to disability in sport. I already think that the fact Haut-Lac has accepted me and is helping me do what I do is so valuable for others like me, and I would love to be able to do my part in that way too.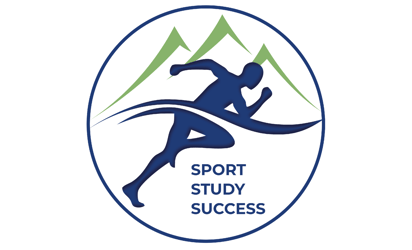 What sort of qualities do you think you've developed on your journey?
Discipline. And organisation. Before, I wasn't a very organized person but now I live by my schedule, which helps me plan my training, school, studying, eating – everything! If I lost it, I wouldn't know where was anymore.
I also think I have grown up, become a more open person, and learnt to tune out any negativity or worries about what others may think of me. Before, I hid my prosthetic, but now, school and sport have helped me to accept it, and more than that, I have become proud of it and of myself.
Now, I wonder how I was ever embarrassed about my disability. It is this new part of my life that has really given me the confidence to see it that way.
What is the most rewarding part of athletics for you?
I think it's being able to be myself and to compete at a really high level. That, and speed. Speed is amazing. It pushes me to my limits and makes me believe that I can do anything.
And judging by the fierce look of determination in her eyes, I don't doubt that she can. Balancing an adult career and schooling is an unimaginable situation for many of us, without the added pressure of the IB and competing on the world Paralympic stage.
However, Sofia already appears to have a level of maturity and wisdom beyond her years. Thanks to her early emergence from the school cocoon and a regular home life, she has the mindset of a winner. She's focused and she's motivated, two qualities that will push her towards achieving her dreams. I wish her the best of luck.
Katie Harwood