Have you ever been on a roll only to suffer a setback? With her horse Utino de la Cense II in recovery, Haut-Lac student-athlete Helena had to rethink her training for the upcoming show jumping season. We caught up with her to find out how things were going.
Getting to know a new partner-in-crime
Although Utino de la Cense II was given the all clear, Helena knew he'd never be competition-ready in time for the start of the season. She therefore decided to train and get to know a new horse, Damoiselle du Dombief, who proved to be a fast learner.
She started with strength and cardiovascular training to develop both her strength and her horse's muscle. The results of this being positive, she moved on to jump training and is pleased with Damoiselle du Dombief's continued progress.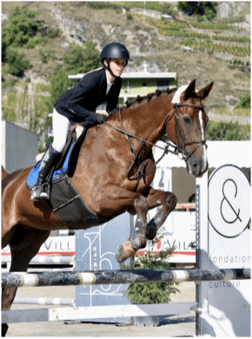 Looking forward to another successful season
Helena is set to begin competing again this Spring.
And that means some very busy weeks and weekends ahead. From caring for her horses to training five times a week and regularly competing at weekends, Helena is on the go non-stop during the height of the season!
Of course, if that's what got her to 6th place in National Jumping Sion and 14 other classifications (10 being first rank) during the 2018-2020 period, then it's worth it.
Getting the all-important rest & recuperation
It is when our skiers are in the thick of competition that Helena is able to take a break from show jumping, as the freezing Winter temperatures make the arenas unsuitable for horse-riding. She uses this time instead to rest and focus on her studies.
Her determination to succeed is evident in both her sport and at Haut-Lac International Bilingual School, where she is excelling in languages and currently considering higher education studies in business or chemistry.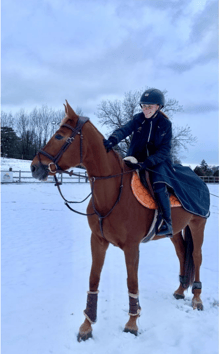 We look forward to seeing her progress this season. You can stay up to date with the latest news from her horse-riding club, Manège de La Tour-de-Peilz, on https://www.manege-ltp.ch/news or check https://info.fnch.ch/#/resultate/reiter/309084 to track Helena and Damoiselle du Dombief's results.
Best of luck to both of them!
James
Sport & Study Coordinator