Haut-Lac student-athletes Victoria and Axel are enjoying a month's rest after a very successful ski season with elite ski team, Ski Valais. We therefore managed to catch up with them to find out more about their sport, and of course to congratulate them. It's not easy achieving such superb performances in slalom, giant slalom and super G, whilst staying so committed to their IB MYP studies.
Here's what they had to say…
How do you prepare for a big competition day?
Victoria: The day before is important. I check my equipment. I check the weather so I know what I need and how to prepare my skis. I try to get a good night's sleep and to wake up at a good time. It's all becomes habit.
We then meet the team and inspect the course. Skiers usually stick together, which is a nice way to wait until it's your turn. About 30 minutes before I have to go, I warm up and have a sip of water. I follow the same routine before every race because it gets me in the zone.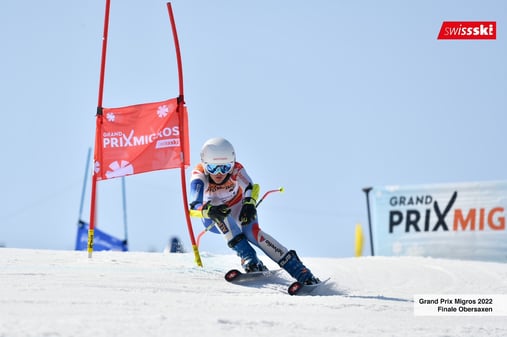 Did you have a favourite event this year?
Axel: My favourite was the giant slalom nationals in Savognin because it was my first national race and the slope conditions were great.
What is important for you in a big competition?
Axel: The important thing for me at a race is that the slope conditions are good for all racers, and that I feel I have skied to the best of my abilities.
Which is your preferred ski discipline and why?
Axel: My favourite ski discipline is the giant slalom because it is a mix of super G speed and technical slalom short turns. It's also my best event, which is also probably why I enjoy it the most.
Victoria: I would have to say my favourite is slalom. I think it's fun and technically challenging. I find slalom very interesting technically, what with the change of rhythm, knowing when to prepare for the next gate and the quick turns. I like the challenge of inspecting a 55-65-gate course and then remembering where each one is and what their key points are.
Does sport psychology come into your skiing at all? Do you use any techniques to help you perform?
Axel: Psychology plays a large role in ski racing. You have to be in the right mindset to be able to attack the course with the right technical intentions whilst trying to go as fast as possible.
The main technique I use to prepare myself on race day is visualisation. After we have inspected the course, I will go through the course 10 or 15 times in my head before leaving the start gate. This helps me understand how it will feel when I'm skiing so that I'm confident I will be able to do my best.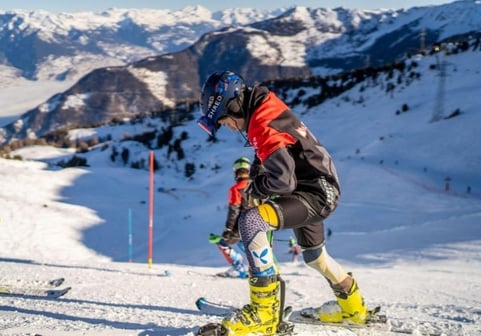 Skiing involves a lot of cold, early starts, hard work, and potentially dangerous crashes. How do you deal with these challenges and what keeps you motivated to continue performing at the highest level?
Victoria: I always have a positive mindset. I never think about crashing, just about me crossing the finish line. This helps me concentrate and do better on the course as I'm less scared.
I try to stay on top of my school work and let people know if I need help catching up. I try to do most of my work at school so I don't have so much to do after training or during race weekends. It's hard sometimes to miss out on social events with my friends, but I know it's the only way if I want to achieve my goals.
I like my team, my training and I'm always motivated as I want to get better. Being the only girl also makes me want to show that I'm as committed, motivated and strong as the boys are.
Thank you for your time and congratulations again on a fantastic season (see results below). We look forward to witnessing more of your successes next year.
James Flavell
Sport & Study Coordinator
Axel

Victoria

Podium finish for Valais

Inter-regional slalom and giant slalom invitations

2 x Top 5 finishes in Valais

5th in slalom (Zermatt)

Top 10 in Inter-Regionals

6th in slalom (Zermatt)

Qualification for nationals

10th in Inter-regional Super G

4th in Grand Prix Migros

Qualifying for Grand Prix Migros finals

6th overall in Valais

10th in Switzerland for age group

2

nd

place in school SGIS competition

1

st

place in school SGIS competition