MYP4 student-athlete, Sam Callinswood continues to impress in the pool. We caught up with him to recap his achievements this season and find out how he copes with such a busy training schedule.
Congratulations on an excellent swimming season! Among many highlights, you achieved the all-time record in the Swiss Junior 4 x 100m Relay Medley. Is this one of your proudest moments in swimming? Do you have any other performances that really stand out for you?
After a very tough two years of pools constantly closing and opening, it was unbelievably fulfilling for me and my teammates to finish this season with a Swiss junior record, a gold medal and a personal best at Swiss Junior Nationals. I can definitely say that this is my proudest moment in swimming so far!
Another performance that really stands out for me was at the Swiss Open Nationals at the beginning of July, where I swam my personal best in the 200m backstroke.
Swimmers have to maintain one of the most intense training schedules in sport to reach your level of performance. Could you describe a busy week of in-season training and competition?
As you said, swimmers have to maintain intense training schedules. A normal week (always a busy week) for me includes daily training sessions and two days of competition at the weekend, alongside homework and other activities such as piano lessons and fitness sessions.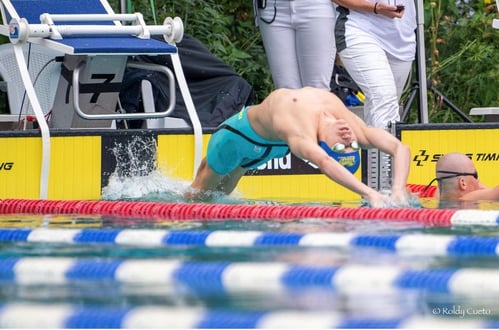 What tips would you give to other athletes to help them manage a huge training schedule and how do you combine this with your school work and personal-time?
A tip I would give other student-athletes would be to limit the amount of time spent on devices. I would also say that being organised is the best skill to have to help you balance school, training and your social life.
What do you enjoy most about swimming and competing?
What I enjoy most about swimming is the team spirit. I've known some of my teammates since I was about 5 years old. Our good team spirit is one of the things that makes me love this sport.
At swimming competitions, I compete against other swimmers, but more importantly against myself. I am always trying to beat my previous best time. Another advantage to competing is that I get to see my friends from other clubs across Switzerland.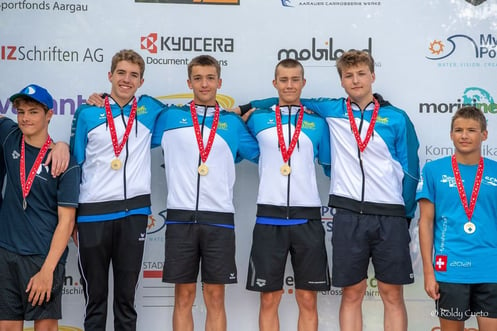 What advice would you give to younger students who are considering taking up a new sport?
My advice to younger athletes is to not give up. All the effort you put in will one day pay off. Maybe not today or tomorrow, but it will come.
I would also say to students, who are considering taking up a new sport, to go for it. You'll never know if you like it or not until you try it. I have gained so much personally from my swimming - discipline, organisation, friendship and pleasure!
Thank you for your time, Sam. Keep us posted on your achievements and best of luck for the future.
If, like Sam, you're looking for a flexible programme enabling you to pursue both your sporting and academic objectives, check out the Haut-Lac International Bilingual School Sport & Study programme here.
As the first school accredited by the World Academy of Sport in Switzerland, Haut-Lac's high quality flexible IBMYP and/or extended IBDP and IBCP programmes have enabled its students and graduates to obtain university sports scholarships, a place on the Swiss Paralympic team and more.
Feel free to contact our Sport & Study Coordinator James Flavell via email to james.flavell@haut-lac.ch for more information.
James Flavell