Twenty years' ago, when I asked my Science teacher why I had to learn about Pavlov and his dog if I didn't want to be a scientist, she replied "because it's part of the curriculum".
In one way, I guess she was right but it was not the answer that was going to get me to go above and beyond in my learning.
That only came 3 years later during a university lecture on organisational behaviour. And I have to say, it did feel good to finally know why I'd learnt what I had in IB Diploma biology.
It's this relevancy that has led to the current revamping of Science, Technology, Engineering, Arts and Maths teaching (STEAM).
WHAT IS STEAM?
STEAM is an interdisciplinary, hands-on teaching approach that gets students to engage with Science, Technology, Engineering, Arts and Maths.
It gets them to work together as professionals would in those fields. By inquiring into a subject from different perspectives and using their findings critically to come up with a creative solution to a problem. And not just any problem. A problem that is relevant to the real world.
Take the Earthshot Prize, an initiative set up by the Duke & Duchess of Cambridge to inspire collaborative action to meet environmental challenges. Motivated by such an important brief, infant and primary students at Haut-Lac International Bilingual School eagerly put their science and technology lessons into practice to make their campus even more eco-friendly.
It was impressive to watch the cogs turn in their young minds as they worked together, sharing skills and knowledge to create solar-powered fountains, battery-charging windmills and littering campaigns.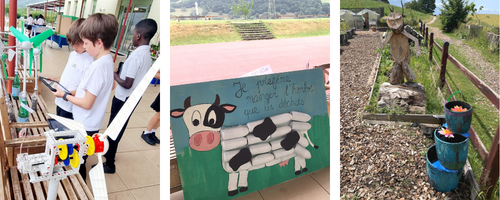 WHY IS IT IMPORTANT?
Because the jobs of the future will all depend on it. We've all witnessed the rise of automation over the last few years, as companies and individuals hand over mundane, routine tasks to computers so they can focus on inventing and innovating.
And that's what pupils at schools with the Primary Science Quality Mark accreditation like Haut-Lac are being equipped to do. They take their STEAM learning one step further to find out, for example, which every day tools use electricity or what to include in their spaceship to ensure their mission's success.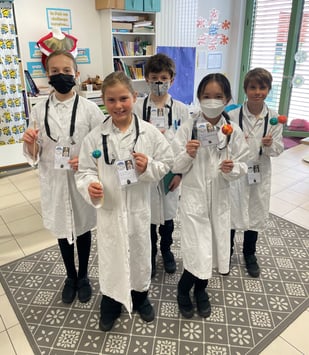 Such projects bring learning to life, making it an experience children want to relive over and over again to quench their thirst for knowledge. A curiosity they will need if they are to be the innovators of tomorrow.
Emma Dowou