Finishing second in an U17 national rowing regatta is quite a feat, especially when you're only 14! MYP4 Sport & Study student Giovanni started the sport for a bit of summer fun in 2019, and is now aiming for podium spot at the National Swiss Championships. We met up with him to find out more...
Congrats on your 2nd place in the U17 national regatta in Schmerikon in May. That's quite a feat, especially as you'll only be starting MYP4 in September! How do you prepare for a regatta knowing that you'll be competing against other significantly older athletes? Would you say their age gives them much of an advantage?
Thank you, the Schmerikon regatta was a great confidence boost for the season!
I stay calm when I know I'll be up against athletes that are older and more experienced than I am. You need to find a balance between power and weight in rowing, so I use as much strength as possible whilst ensuring the boat stays light so that it glides though the water better than the boats of older competitors who weigh 10-15 kilos more than me.
I would say they do have an advantage, but we are always prepared to take on the challenge of working harder to perform better. I try not to think about the other boats around me. I focus instead on the sensation of rowing, my race plan and my set time, which more often than not helps us stay concentrated for the whole race.


When did you start rowing and why?
I started rowing in the summer of 2019, when two of my friends asked if I wanted to try the rowing initiation camp with them. I then kept it up as a way to improve my French and get outdoors more.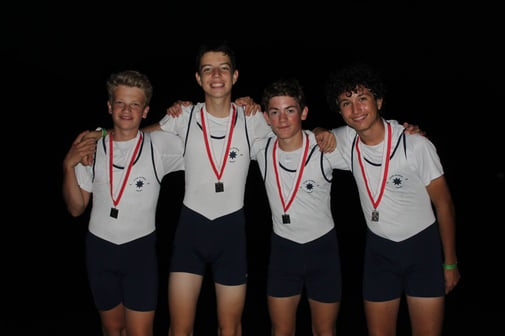 What does a typical week of training look like for you and how do you do to prepare for a regatta?
A typical week of training includes 5 or 6 sessions, with a double training on Saturday morning. Each sessions lasts about two hours. If the lake is flat, we go out on the water whatever the weather (rain, snow, etc.). If not, we run or train on the ergometers or do weights.
The week before a race, we work on starts, race sensations and on feeling confident in the boat. The hours prior to a race aren't always enjoyable, but we always manage to stay positive and never let the stress get to us by watching a movie, listening to music or watching the other races.
The main thing is not to stress until you come off the water, as the boat that wins is most often the one with the cleanest technique and best focus.
What are your hopes for your future in rowing? Do you have any targets this season?
I hope to make the Swiss U19 Junior team and then carry on rowing at college.
My aim for this season is to get on the podium at the National Swiss Championships. I think we stand a good chance of doing so, as we are working hard towards it.
Could you tell us a little about the different rowing categories? Which do you prefer and why?
There are two different boat categories, which each include boats of different sizes. Scull boat rowers have two oars each, and sweep boat rowers have one.
Each category then includes different-sized boats. Single-person boats are only scull, whereas doubles, quads and eight-man boats can be both scull and sweep. Some boats can also be coxed, meaning there is an extra person in the boat steering it.
I mainly race in scull quads and non-coxed sweep quads, which are my two favourite boats. They glide really well, and both categories are competitive in U17. We can easily identify our individual mistakes in them, and my crew manages to maintain a good attitude when in them.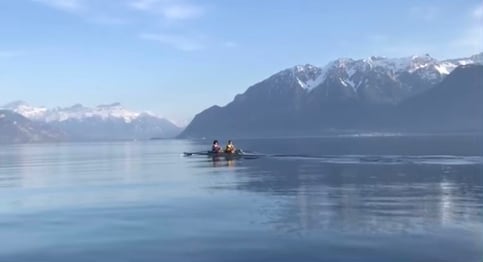 If someone living in the area was interested in rowing, where could they go to give it a try?
My rowing club (Club Aviron Vevey) organises a one-week initiation camp every summer. If you do this initiation camp, you can then join the competitive section of the club. However, if you want to do something more relaxed and non-competitive, there is also the "loisir/baladeur" section.
Thanks for your time Giovanni. We wish you the best of luck on your quest for a podium finish at the National Championships later this year.
James
Student Athlete Coordinator